Campaign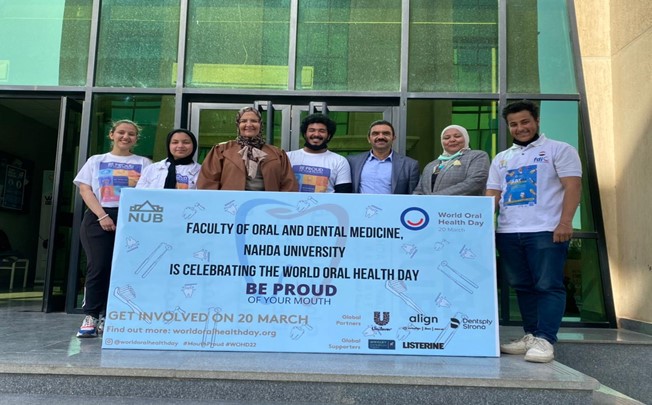 Nahda University is celebrating the World Oral Health Day.
It will start on Monday 13/3/2023 and ends on Monday 20/3/2023.
The Faculty of Oral and Dental Medicine, Nahda university in Beni Suef, Egypt, will host the oral health awareness event through celebrating World Oral Health Day with a large campaign with the goal of encouraging children, adults and the elderly to take care of their mouths and improve their quality of life. This will be carried out by participants of the NUB staff, residents and students.
The event will take place over the course of one week:
The whole week will target the university's staff, employees, workers and patients at eight faculties in the university in order to: (13-20 March 2023).
Explain to them how important it is to take care of their oral and dental health, as well as the best ways to brush and floss their teeth properly, which help to avoid cavities, plaque and gum diseases.
Invite children for training to perform brushing on models, short comic videos by dental students, competitions, posters and activities gifts, and samples of healthy food and beverages to provide them with the information they need to maintain good oral and dental health.
During this week on the fifteenth we will target different schools" (15-16 March 2023).
The oral and dental health program of the faculty dental convoys will include:
Oral and dental health-related learning activities to both students and teachers.
Presentation on brushing techniques and misconceptions, as well as how they can take care of their health and why they should see their dentist on a regular basis.
Competition to see who could make the finest dental sketch or picture that expressed how to take care of their teeth.
Another day will be basically aimed to target "the poorest village in the urban and rural areas" near the university, which reflect our believe at Nahda university in our role in community services in Egypt (18-19 April 2023).
The oral and dental health activities of the faculty dental convoys will consist of:
Promoting oral and dental health education through dental health awareness educational initiatives, as well as oral health screenings.
Providing high quality dental treatment to the public in all dentistry specialties as well as oral hygiene measures.
Understanding the danger of common chronic illnesses in Egypt such as diabetes and hypertension, as well as their consequences on dental health and how to manage them.
Providing primary medical care such as blood pressure, blood sugar levels, body weight and height calculation as a first step in detecting chronic disorders that impair oral health.
Distribute toothpastes and tooth brushes.
Finally, pictures from the event will be shared on the student activity's Facebook and Instagram pages in the form of photos, posts, and stories.
Information
mohamed.elmofty@nub.edu.eg
Kornish Al Nile
Bayad Al Arab
Beni Suef
Beni Suef Governorate
Egypt
Faculty of Oral and Dental Medicine, Nahda University